Items filtered by date: September 2022
Tuesday, 13 September 2022 00:00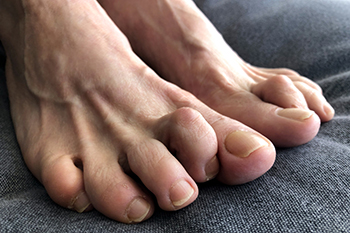 Hammertoe is a specific kind of foot affliction that primarily impacts the joint of the second, third, or fourth toe. When an imbalance in one of these joints occurs, the toe has a tendency to essentially bend upwards at the joint. As a result, the toe resembles a hammer. Age and gender havs a particularly interesting relationship with this foot condition. Specifically, the incidence of hammertoe is increased in older individuals and women. One possible explanation for this correlation is that women tend to wear shoes that force the toes into awkward contortions, such as high heels. When a toe is forced into tight positions in the toe box against the other toes, hammertoe can develop. Individuals who suffer from hammertoe will tend to experience pain where the hammertoe is located. Additionally, it may become difficult for the individual to walk normally. Swelling is also common for patients living with a hammertoe. If you are a woman or are an older individual that is concerned about developing hammertoe, schedule an appointment with a podiatrist today. Your podiatrist can help you try to prevent and treat your hammertoe.
Hammertoe
Hammertoes can be a painful condition to live with. For more information, contact Philip C. Caswell, DPM from Family Foot & Ankle Care. Our doctor will answer any of your foot- and ankle-related questions.
Hammertoe is a foot deformity that affects the joints of the second, third, fourth, or fifth toes of your feet. It is a painful foot condition in which these toes curl and arch up, which can often lead to pain when wearing footwear.
Symptoms
Pain in the affected toes
Development of corns or calluses due to friction
Inflammation
Redness
Contracture of the toes
Causes
Genetics – People who are genetically predisposed to hammertoe are often more susceptible
Arthritis – Because arthritis affects the joints in your toes, further deformities stemming from arthritis can occur
Trauma – Direct trauma to the toes could potentially lead to hammertoe
Ill-fitting shoes – Undue pressure on the front of the toes from ill-fitting shoes can potentially lead to the development of hammertoe
Treatment
Orthotics – Custom made inserts can be used to help relieve pressure placed on the toes and therefore relieve some of the pain associated with it
Medications – Oral medications such as anti-inflammatories or NSAIDs could be used to treat the pain and inflammation hammertoes causes. Injections of corticosteroids are also sometimes used
Surgery – In more severe cases where the hammertoes have become more rigid, foot surgery is a potential option
If you have any questions please contact our office located in Sparta, NJ . We offer the newest diagnostic and treatment technologies for all your foot and ankle needs.
Read more about What Are Hammertoes?
Wednesday, 07 September 2022 00:00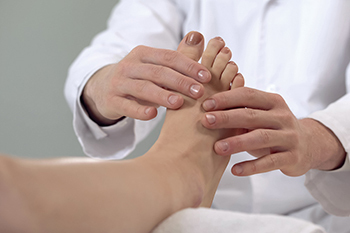 One should always take a broken foot seriously. When someone breaks or fractures the foot, they may experience a wide range of unpleasant symptoms. For example, the individual might notice a sensation of tenderness, a loss of feeling around the affected area, visible changes to the skin like bruising or swelling, and a cracking sound whenever the foot is moved. A medical professional, such as a podiatrist, can help diagnose your broken foot in different ways. For example, a simple examination of your foot might be performed whereby skin breaks and foot movement are analyzed. Additionally, to diagnose your broken foot, an X-ray, MRI, or CT scan might be performed. Through these procedures, pictures are taken of the affected foot with the aid of contrast liquid. This kind of liquid essentially improves how visible your foot will be in a picture. Lastly, to diagnose your broken foot, a medical professional may perform what is known as a bone scan. No matter how a diagnosis is performed, you should contact a podiatrist if you suspect a broken foot. A podiatrist will help you identify and treat the problem.
A broken foot requires immediate medical attention and treatment. If you need your feet checked, contact Philip C. Caswell, DPM from Family Foot & Ankle Care. Our doctor can provide the care you need to keep you pain-free and on your feet.
Broken Foot Causes, Symptoms, and Treatment
A broken foot is caused by one of the bones in the foot typically breaking when bended, crushed, or stretched beyond its natural capabilities. Usually the location of the fracture indicates how the break occurred, whether it was through an object, fall, or any other type of injury. 
Common Symptoms of Broken Feet:
Bruising
Pain
Redness
Swelling
Blue in color
Numbness
Cold
Misshapen
Cuts
Deformities
Those that suspect they have a broken foot shoot seek urgent medical attention where a medical professional could diagnose the severity.
Treatment for broken bones varies depending on the cause, severity and location. Some will require the use of splints, casts or crutches while others could even involve surgery to repair the broken bones. Personal care includes the use of ice and keeping the foot stabilized and elevated.
If you have any questions please feel free to contact our office located in Sparta, NJ . We offer the newest diagnostic and treatment technologies for all your foot and ankle needs.
Read more about Causes, Symptoms, and Treatment for a Broken Foot