Items filtered by date: July 2022
Tuesday, 26 July 2022 00:00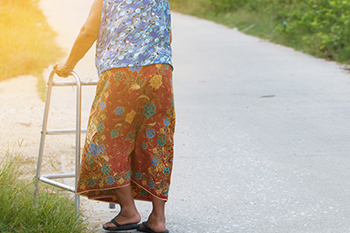 Nursing care centers often have their staff take a course in how to prevent residents from falling. It is a common occurrence that can happen in nursing care centers, hospitals, or homes, and it can inflict serious damage to the body and feet. This can make patients afraid of falling, causing them to limit their daily activities. There are conditions that contribute to falling episodes, and these can include body weakness, vision and physical illness, and walking and maintaining balance may be difficult. Some people may be deficient in vitamin D, and may possibly take medications consisting of tranquilizers and sedatives which may increase the risk of falling. There are simple fall prevention methods that can be implemented in the home, which may help to prevent falling. These can include removing worn rugs, and improving lighting in the house. It is beneficial to have a grab bar installed in the shower and toilet area in addition to using a good bath mat. Falling can affect the feet, and if you would like more information on effective fall prevention methods, please consult with a podiatrist.
Preventing falls among the elderly is very important. If you are older and have fallen or fear that you are prone to falling, consult with Philip C. Caswell, DPM from Family Foot & Ankle Care. Our doctor will assess your condition and provide you with quality advice and care.
Every 11 seconds, an elderly American is being treated in an emergency room for a fall related injury. Falls are the leading cause of head and hip injuries for those 65 and older. Due to decreases in strength, balance, senses, and lack of awareness, elderly persons are very susceptible to falling. Thankfully, there are a number of things older persons can do to prevent falls.
How to Prevent Falls
Some effective methods that older persons can do to prevent falls include:
Enrolling in strength and balance exercise program to increase balance and strength
Periodically having your sight and hearing checked
Discuss any medications you have with a doctor to see if it increases the risk of falling
Clearing the house of falling hazards and installing devices like grab bars and railings
Utilizing a walker or cane
Wearing shoes that provide good support and cushioning
Talking to family members about falling and increasing awareness
Falling can be a traumatic and embarrassing experience for elderly persons; this can make them less willing to leave the house, and less willing to talk to someone about their fears of falling. Doing such things, however, will increase the likelihood of tripping or losing one's balance. Knowing the causes of falling and how to prevent them is the best way to mitigate the risk of serious injury.  
If you have any questions, please feel free to contact our office located in Sparta, NJ . We offer the newest diagnostic and treatment technologies for all your foot care needs.
Read more about Falls Prevention
Tuesday, 19 July 2022 00:00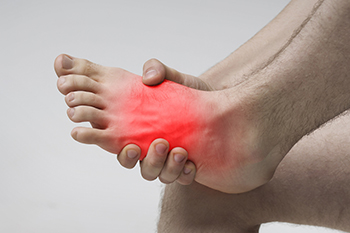 Stress fractures in the foot are usually the result of overuse or repetitive activities. They are common among runners, basketball and soccer players, and dancers. Women who are experiencing osteoporosis are also at risk. Foot stress fractures affect three main areas: the 2nd and 3rd metatarsals, the navicular bone at the top of the foot, and the calcaneus bone in the heel. Stress fractures may be difficult to detect because they are tiny hairline cracks in the bones and may easily be missed in an X-ray. Because they usually develop over time and are not immediately painful, stress fractures often go undetected or are mistaken for plain old sore feet. These fractures are caused by any activity that puts too much stress on the bones. Among the causes are increasing the frequency or length of an activity too quickly, changing from a soft to hard surface, using a faulty technique that may be the result of other conditions, and utilizing improper footwear. Even non-athletes experience stress fractures when walking too far or for too long while on vacation. If constant foot pain causes you to believe you may have developed stress fractures of the foot, please visit a podiatrist for a complete exam and diagnosis. 
Activities where too much pressure is put on the feet can cause stress fractures. To learn more, contact Philip C. Caswell, DPM from Family Foot & Ankle Care. Our doctor can provide the care you need to keep your pain free and on your feet.
Dealing with Stress Fractures of the Foot and Ankle
Stress fractures occur in the foot and ankle when muscles in these areas weaken from too much or too little use.  The feet and ankles then lose support when walking or running from the impact of the ground. Since there is no protection, the bones receive the full impact of each step. Stress on the feet can cause cracks to form in the bones, thus creating stress fractures.
What Are Stress Fractures?
Stress fractures occur frequently in individuals whose daily activities cause great impact on the feet and ankles. Stress factors are most common among:
Runners                                  
People affected with Osteoporosis
Tennis or basketball players
Gymnasts
High impact workouts
Symptoms
Pain from the fractures occur in the area of the fractures and can be constant or intermittent. It will often cause sharp or dull pain with swelling and tenderness. Engaging in any kind of activity which involves high impact will aggravate pain.
If you have any questions please feel free to contact our office located in Sparta, NJ . We offer the newest diagnostic and treatment technologies for all your foot and ankle needs.
Read more about Dealing with Stress Fractures of the Foot and Ankle