Items filtered by date: July 2022
Tuesday, 26 July 2022 00:00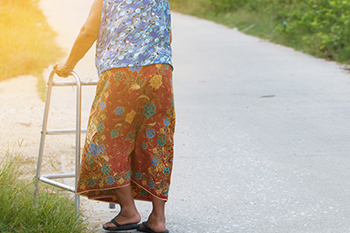 Nursing care centers often have their staff take a course in how to prevent residents from falling. It is a common occurrence that can happen in nursing care centers, hospitals, or homes, and it can inflict serious damage to the body and feet. This can make patients afraid of falling, causing them to limit their daily activities. There are conditions that contribute to falling episodes, and these can include body weakness, vision and physical illness, and walking and maintaining balance may be difficult. Some people may be deficient in vitamin D, and may possibly take medications consisting of tranquilizers and sedatives which may increase the risk of falling. There are simple fall prevention methods that can be implemented in the home, which may help to prevent falling. These can include removing worn rugs, and improving lighting in the house. It is beneficial to have a grab bar installed in the shower and toilet area in addition to using a good bath mat. Falling can affect the feet, and if you would like more information on effective fall prevention methods, please consult with a podiatrist.
Preventing falls among the elderly is very important. If you are older and have fallen or fear that you are prone to falling, consult with Philip C. Caswell, DPM from Family Foot & Ankle Care. Our doctor will assess your condition and provide you with quality advice and care.
Every 11 seconds, an elderly American is being treated in an emergency room for a fall related injury. Falls are the leading cause of head and hip injuries for those 65 and older. Due to decreases in strength, balance, senses, and lack of awareness, elderly persons are very susceptible to falling. Thankfully, there are a number of things older persons can do to prevent falls.
How to Prevent Falls
Some effective methods that older persons can do to prevent falls include:
Enrolling in strength and balance exercise program to increase balance and strength
Periodically having your sight and hearing checked
Discuss any medications you have with a doctor to see if it increases the risk of falling
Clearing the house of falling hazards and installing devices like grab bars and railings
Utilizing a walker or cane
Wearing shoes that provide good support and cushioning
Talking to family members about falling and increasing awareness
Falling can be a traumatic and embarrassing experience for elderly persons; this can make them less willing to leave the house, and less willing to talk to someone about their fears of falling. Doing such things, however, will increase the likelihood of tripping or losing one's balance. Knowing the causes of falling and how to prevent them is the best way to mitigate the risk of serious injury.  
If you have any questions, please feel free to contact our office located in Sparta, NJ . We offer the newest diagnostic and treatment technologies for all your foot care needs.
Read more about Falls Prevention
Tuesday, 12 July 2022 00:00
Professional chefs spend many hours a week on their feet cooking. Their days often involve a continuous day of standing, walking, bending, lifting, and turning at odd angles. Being on one's feet so much will eventually take a toll. It might start with sore feet at the end of the day but often gradually starts to involve other parts of the body as everything is interconnected. It is important for anyone in this profession, and any other job that requires long hours of standing, to take proper care of their feet. If not, one will be in constant pain, productivity will be impacted, and the passion for cooking will take a back seat to aches and pains. A cook can delay or diminish foot pain by doing some simple things, including wearing shoes that fit well, are supportive, and have proper cushioning. Other tips are lifting properly and not more than can be handled, and wearing white socks, because colored socks have dye that can seep into pores when one sweats. Sitting (at least when eating) to take some of the pressure off the feet, as well as staying active and stretching when not working to keep limber may also help. Do as much as you can to take care of your feet if you are working on your feet all day. If you cannot get on top of the pain yourself, see a podiatrist for additional tips and treatment.
While working on the feet, it is important to take the proper care of them. For more information about working on your feet, contact Philip C. Caswell, DPM from Family Foot & Ankle Care. Our doctor will treat your foot and ankle needs.
Working on Your Feet
Standing on your feet for long periods of time can cause stress and pain in your feet. Your whole body may experience change in terms of posture, back pain, bunions, callouses and or plantar warts. There are ways to avoid these conditions with proper foot care, smart choices and correct posture.
Positive Changes
Negative heeled shoe – Choosing this shoe type places the heel slightly lower than the ball of the foot. These are great for overall foot health. Find shoes that fit you correctly.
Go barefoot – Our feet were not designed to be enclosed for all hours of the day. Try to periodically expose your feet to air.
Eliminate Pain
Foot Exercises – Performing simple exercises, incorporating yoga and doing stretches are beneficial. This will allow increased blood flow to the area and muscles of the foot.
Achilles tendon – Stretching the foot out flat on the floor will relax the calf muscles and tendon. These exercises can be performed almost anywhere. Make sure you add these exercises to your daily regimen. 
With a little bit of this information and knowing more about foot health, you will notice changes. Foot stretches and proper footwear will help with pain and prevent further issues.
If you have any questions please feel free to contact our office located in Sparta, NJ . We offer the newest diagnostic and treatment technologies for all your foot and ankle needs.
Read more about How to Handle a Long Work Day on Your Feet